It has been some time since I blogged. There are a couple of reasons for my absence and lack of posting. The most important one being: Wateen's screw up!!
Wateen, the only WiMax operator in Pakistan, had been working quite well for me since I subscribed to their services at the start of this year, so much so that I had been all praise for it off and on amid a plethora of criticism against them. But all of that changed come 6th of September.
I was out of town from the eve of 5th September till the eve of 7th September (weekend). Upon my return, when I tried to get back on the virtual world from my home through Wateen, I started getting "User is Invalid" message. That marked the start of a 5 weeks period, during which I called their support center so many times and was only given complaint #'s after complaint #'s (with a few reassuring words) but without any solution.
The problem was: A humongous telephony bill that was laden with a three days spree of bogus calls amounting to a whopping 12000 rupees!!
According to the bill that they sent me after my inquiries into my disabled account, I came to learn that numerous bogus calls had been made from 4th to 6th of September from the telephony number allotted to me. Mostly to international destinations! The funny part is: my Wateen telephony service had been disabled since May 2008 and I had only been using their Internet service since then!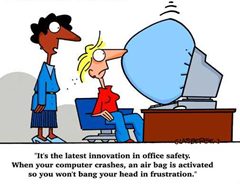 The hardest part in this fiasco was communicating these facts to their call center reps! They merely (1) lodged the complaints, (2) assured me that I don't need to worry and (3) told me that their CS department will contact me in 24 hours; and they did call … only half the times. During the four weeks following my account's disablement, I was given around 8 complaint #'s for the same issue. I had also approached their franchise offices, but they said that they were helpless in this regard and they can't do anything about it! Isn't that great!? I emailed them too, but that didn't bear any fruit either. Nonetheless, email seemed to be a better option for explaining my billing problem in clear details, as the response was far better than that I received when I complained at the call center.
On top of all that, it was the month of Ramadan, when working hours are reduced and people perform much less work than they would in normal days. Follow that with a 5 days Eid holidays and my issue remained unresolved till the second week of October.
Then I emailed them once again. And to my luck, someone was actually being attentive to the details that day as I received a call from correspondence department the next day, by a sweet sounding female voice, and thankfully, she grasped the issue really well. And guess what … the next day I received another call from Wateen telling me that my connection had been restored and amount of 12000 rupees had been adjusted/credited back into my account! Hurray!! Finally!!
Though it took one more day of complaints and email since they forgot to actually restore/reopen my account that day.
Now it's working again, in all its WiMax glory!
Points to remember:
Emailing the customer support is a better option if your problem is not trivial
Calling up the support/call center is a better option if your problem is trivial and you don't have to provide much details
The folks at the call center, support center and correspondence are helpful people, who are there to help you. Shouting, yelling or misbehaving with them just because you are aggravated is not going to help your cause anyway. So be nice, and treat them as good fellows, and not as if you own them.
Make sure you inquire about your bills, and check them in detail when you are sent one
Tell me your story in the comments below if you have ever been aggravated or faced any such screw ups, from Wateen or any other provider.