One of the tools that you can readily utilize for blogging is an offline software editor to write, edit and publish posts to your blog. One (new entrant) among such editors is Microsoft's
Word 2007.
Supported Blog Providers/Engines
Word 2007 – a part of the Office 2007 suite – provides in-built functionality to connect to different types of blogging systems and perform editing and publishing tasks from within the very familiar interface of Word. Supported are some of the major blogging engines out there:
If your blogging engine is not in the above list, then Word also provides an option of 'Other', where you can connect to your blog through the API provided by your blogging engine. Consult your blog provider to check how to publish from a software editor, outside of you blog. Most bloggers would be pretty happy though, just like me, to find WordPress in that list.
Connecting to My Blog from Word
It was a breeze to connect Word to my WordPress blog. All I had to do was to provide the URL of my WordPress blog (relative to the xmlrpc.php file) and my username and password for the blog. That was it! Now I am composing this post of mine from within Word, and (if everything goes well) I will be successfully publishing it from within Word as well.
One Caveat
There is, however, one important thing that needs to be checked: the way Word formats HTML content, inserting its own markup and what-not into the code. This is the biggest issue when composing or copy-pasting rich-text from Word, or other word processors, into a web-based visual editor (such as TinyMCE). That is why word processors are generally avoided for HTML based content creation (not even for copy pasting) to the extent that it's highly discouraged. I will edit this post after publishing to check what has been done with the code behind the visual layer: whether Word 2007 throws its own garbage into the code or keeps it clean and tidy XHTML.
Word 2007 Blogging Features
I will be writing a tutorial in my next post on how-to utilize Word 2007 to post on your WordPress blog. For now, a brief list of blogging features that are provided in Word2007: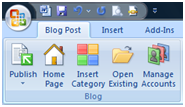 Publish: Publish the post to your blog account
Publish as Draft
Home Page: Opens the home page of your blog in web browser
Insert Category: Categorize your post from the already defined categories on your blog account, or type a new one
Open Existing: Open an already published post on your blog for editing in Word
Manage Accounts: Add, remove or modify your blog accounts
Now that it's time to publish, I realize that Word lacks the ability to tag my post! Tagging is now supported by WordPress and I love to tag my posts with the relevant keywords of the post rather than putting them in one or two generic categories. Now this step will need to be carried out manually. Oh well. Let's publish.