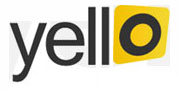 It's been some time since I blogged. I am running so short of time nowadays. Friends feel ignored; my projects are pending; almost no time for socializing. The main reason of my busyness is a project called yellO that I have been part of since March '08 (full-time since August '08). This unique and one-of-its-kind portal (and magazine) of local services in Pakistan is finally ready for show time!
It's something big!
We have been working on yellO for almost an year now. It's been an exhilarating experience for me to be part of the development, design and strategy formation processes of one of the most authentic and superb piece of web application/portal to surface from this part of the world.
We had tough days. We had boring days. We had frustrating days. We had days on which we almost thought to give up on it since we were too bored working on the same thing everyday for so many months! But now that yellO's development is complete (for launch) and it's all ready to go live, I am really satisfied with the outcome. And quite excited too!
The Visionary
I remember that I was a bit reluctant when Samir – the visionary behind yellO – had asked me to join team yellO. I had other offers too at that time and they were offering better package than what I was being offered for yellO. But in the end, it was Samir's passion and fervor, and his desire to bring positive change in the world – the same ideals that I myself follow – that sealed my decision in favor of yellO.
The Team
The most important component in realizing a vision is the team that is responsible for turning an idea into reality. And the team assembled for yellO had all the characteristics of a winning team!
Adeel, the lead developer, and Saad, the lead designer, have both remained an indispensable asset for yellO. Zulfiqar has been an amazing artist and (print) designer. Aamir has been great at handling graphics and publishing stuff. Mudassir is new but he's learning to walk the tight rope of the Linux administration world well. Young Shahrukh is intelligent and full of curiosity, and he is a great asset for the community building part of yellO. In the past, Ali Raza, Asim, Waleed and Faraz have worked for some time on yellO before parting in search of other opportunities.
As for me myself, I have been responsible for handling all the stakeholders, mentioned above; making sure that we followed the timelines and that everyone was working in congruency. Also, I tend to the strategic aspect of yellO as, officially, I am the Strategy Director for yellO.
All in all it has been a great fun and an exciting experience building a major venture like yellO.
Join yellO today and start adding and reviewing interesting places on the map.