If, like me, you are running out of space on your desktop/laptop hard drive, or you require a central storage space to store all your digital stuff – hi-res pictures, HD videos, movies, music, etc – then you certainly have been thinking about getting an external hard drive for yourself. The market is inundated with manufacturers marketing their external hard drives in the sleekest of cases. And it's not just the conventional storage brands anymore – Western Digital, Seagate, Iomega – offering a range of external hard disks, but the non-storage players have entered this arena too, including HP and Toshiba, offering competent products.
Western Digital My Book Essential 500 GB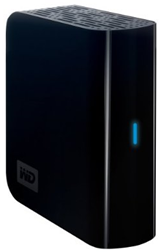 Out of all the options available in the market, I decided to get myself the My Book Essential 500 GB from Western Digital. Apart from its big storage, it looks stylish in its black shiny body, with just a small blue LED light on the side.
Some of the things that I loved about the Western Digital My Book Essential:
The design:

its sleek, black shiny body looks stylish

Cooling vents:

To keep the drive cool

Quiet operation:

To hear a sound, you have to bring your ear closer to the vents

Smart and energy efficient:

Turns itself on and off with your computer

Instant plug-n-play:

No need to install any drivers or software to use it

Book style design:

Collect two or more and they cuddle neatly together like books on a shelf
Reliability, Accessibility and Design
Most of the external hard drives end up doing the same thing anyway: provide external storage for backup or extending purposes. Thus, the decision in the end probably comes down to reliability, accessibility and design.
Reliability: Most of the reviews of the WD My Book Essential I read (on Amazon) termed it as reliable. Though there were occurrences of the drive dying out, but the reviewers got it replaced from Western Digital easily under the warranty.
Accessibility: The drive is ready to be used as soon as you unbox it! As for carrying it around, it is designed for the home/office and thus, designed to be stationary at one place (although you can carry it around, if you wish to).
Design: 10 years ago, we could have argued that design should not be a deciding factor for buying a tech gadget. But after Apple scored with designing the best products in the last decade, design has become a crucial part of gadgets today. The My Book Essential scores pretty high on this front with its simple, yet stylish design. Place it on your book shelf or table and it will fit perfectly there.
Setting-up WD My Book Essential: What's included?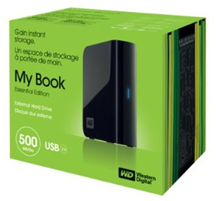 The drive is plug-n-play: Just power it up and plug it in (in that sequence).
The My Book Essential 500 GB includes setup files of a few backup utilities – both for Windows and Mac. The main backup software included is the Memeo AutoBackup. Sadly, its a trial version, which is quite odd, since I read elsewhere on the web that other WD external drives (including others in the My Book series) include the full-version of Memeo AutoBackup (with its serial key printed in the manual).
The file system on the drive is FAT32 by default.
Spice-up your external hard disk!
You can spice up your external hard disk experience by converting the file system to NTFS and installing an alternative free backup software. I will write about them in detail in my next post.